Cosmetic surgery and a variety of general surgery in Tunisia
Linda Briggs in Tunisia for your Cosmetic or Plastic Surgery overseas or abroad. Also General and Obesity surgery and much more. Established since 1999 Selecting the best specialists in Tunisia. Telephone Linda to book an appointment. Click here to see all options for Cosmetic Surgery in Tunisia.



Doctors trained to high French standards. GMC Specialist Registered surgeon (UK) with consultations in London. Board Certified surgeons from the USA.


What the New York Times says about Tunisia

What the Australian Business says about Tunisia




Modern state-of-the-art hospital

Cosmetic surgery . Face lifting, Breast implants, uplifts or reductions, Lipo, Tummy tucks & surgery after weight loss




Latest technology

Specialist Ocular Plastic Surgeon. All eye lifting or Blepharoplasty




High levels of quality and safety

Ophthalmic Surgeon. Lasik, Lasek, Cataracts, Anything to do with vision




Intensive care units

General & orthopaedic surgery. Hips & knees, Hernias, Health checks




A & E department

Obesity surgery. Gastric bands




And just for the ladies. Also available with a lady gynaecologist. Designer Vaginas, and all other gynaecology including smear testing

Linda Briggs introduced you to Tunisia in 2004, after discovering it was a good option for the discerning French patients looking for cosmetic or general surgery overseas or abroad.

Since then it has grown to be a popular venue for British patients for cosmetic and general surgery abroad and we are now able to offer a range of cosmetic and general surgery procedures and prices to suit your budget.

As a result of our success, other organisations now offer similar services. However, be aware not all offer the same high standards that are available through Linda Briggs for your treatment abroad.

Prices are no cheaper if you make direct contact with the surgeons or clinics overseas as Linda Briggs has a lot of buying power and negotiates the best rates. Linda Briggs is happy to make all arrangements for your cosmetic and general surgery overseas at no extra cost to the patient.

Linda Briggs visits Tunisia often and is happy to give support and help to patients.



Contact Linda Briggs
By telephone on 0044 1354 610368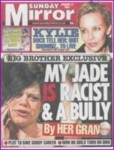 Read Christine's story about her new boobs from Tunisia.


Some stories from patients who have been to Tunisia for cosmetic surgery abroad with Linda Briggs, see the news items below.

Linda Briggs introduced you to Tunisia for cosmetic surgery abroad and over the past few years has sent hundreds of patients for cosmetic surgery, dentistry, obesity surgery,lasik eye surgery and general surgery. Linda Briggs uses the best private general hospital in Tunis and has a vast selection of specialists at her disposal. For the best in Tunis, con tact Linda Briggs

Linda Briggs is probably the largest company in the UK sending patients overseas and is still able to offer a very personal service to patients. Beware of those using her name without permission and not offering the same individual service.


Sarah had cosmetic surgery in Tunisia



Joanna had new boobs in Tunis, Tunisia


Click here to read all the stories of Linda Briggs patients and many more about cosmetic surgery in Tunisia