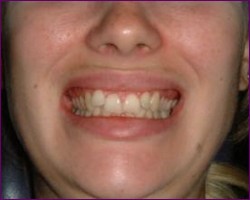 For years I have admired and been slightly envious of people with straight teeth. When the invitations to weddings began to arise, I decided I wanted something to be done. My sisters wedding is planned for the end of the year and being the first time I was going to be a bridesmaid, I wanted to have a perfect smile. Further to the fact, that I would be a future bride myself one day.

The aim was to have straight teeth in 9 months time, just in time for my sisters wedding at the end of the year.

By March I had made a decision to go ahead with the treatment and booked myself in for an initial appointment with DR. Kumar at his Harley Street practice. The consultation covered my reasoning behind wanted to change my teeth and the options methods I had available to me including Invisalign. After careful consideration, Invisalign seemed the most appropriate option for myself.

The next few visits involved getting x-rays and moulds made of my teeth to send to America to be analysed. Few weeks later, my treatment plan arrived. My plan involved 9 months of aligners, which were to be changed every 2 weeks. One of the aspects that sold me on this treatment was being able to take the aligner out if needs be, but I discovered this was almost never as the aligners were virtually invisible.

The last 4-5 months have flown and I don't even notice I'm wearing the aligners any more. The process has been convenient and relatively painless. Invisalign has exceeded my expectations. It has been exciting to see my smile change before my eyes and I am well on the way to having a perfect smile.



JANE M
I am 45 years old and work as a Personal Assistant to a Managing Director. My teeth have been crooked since I was a teenager and in those days braces were not commonplace.

As I grew older, I became more self-conscious about my teeth, especially when I smiled. I considered having fixed braces but felt that, at my age, they would look awful and I knew I would be very conscious of them.

My job involves a lot of client social events and conferences for which you need to be self-confident and I knew that if I had fixed braces that I would find them a bit embarrassing because of my age.

I saw an advert for Invisalign in the back of Vogue magazine and rang to make an appointment. The dentist talked me through the procedure and showed me a set of aligners. He had been talking to me for about half an hour and then told me that he was wearing a set of aligners – I couldn't believe it and would never have known if he hadn't told me.

I decided to go ahead with the treatment and I am extremely pleased with the aligners. I have been wearing them for the past six months and not one person has noticed them. In fact, I have told lots of people that I am wearing them and they look at me in disbelief.

I recently organised a retirement party for my boss at the Ritz Hotel and had to meet and greet a lot of the top people that work in our industry. My aligners never crossed my mind as I knew that nobody would notice that I was wearing them.

I would thoroughly recommend Invisalign, especially for people of my age group who may be conscious of fixed braces that are so apparently visible.



Dear Raj,

I'm not at all surprised you like the quotes, you are a visionary; you see the new ways of doing things! I like to think the same way. Kina and I both felt very comfortable with you, your energy, and your whole approach. Great positivity, futuristic forward thrust. You instill a lot of confidence. It is clear that you have the highest of standards and enjoy your work a great deal. You are truly excited in the wonderful ways that you are able to help people. I feel the same way about the work that I do, and of course, really appreciate it when I see it in others. And I will tell you, we went to several doing Invisalign...( I am a conscientious consumer)....You really stand out. Not meaning to butter you up,,,just wanted to give you some sincere feedback.

Many thanks again,
Neil


---

My name is Lisa I'm a 25 yr old nurse/therapist, living in London since 2000. As a child I remember making numerous trips to the dentist with my mum for fillings and extraction's due to teeth growing in unusual directions. As I approached my teens and noticed a lot of my friends were wearing braces I thought it unusual that my teeth were worse than a lot of theirs and I couldn't comprehend why my dentist had never mentioned me having them, so I approached my mum and dentist about it.

In Ireland free dental care is provided to those under the age of 16yrs, however due to the high volume of severe cases I was told I didn't qualify for free dental care because my teeth were not 'bad enough.' Unfortunately my parents couldn't afford such an expensive treatment therefore I went through my tender teens hiding my teeth when smiling and avoiding as many photographs as possible. Friends and colleagues never commented on my teeth but that's because I always tried my best to hide them.

As an adult I now have the ability to pay for private treatment. Metal braces were never really an option as I was paranoid enough about my teeth without having so called 'train tracks' on display. I've thought about veneers as a quick fix and gaining that extra confidence sooner rather than later, however, I didn't like the idea of destroying my own teeth when I could preserve what was already there and healthy!

When I first heard about Invisalign I thought it was too good to be true; an invisible brace that straightened your teeth and no-one could see it. I researched it and thought brilliant, i want it!

I've always been skeptical about dentists and thought money only matters so when i went to Harley Street, 'the street where money is made' I thought this guy is going to try and persuade me to get veneers. I was surprised to find that Dr Kumar was against veneers and totally supported the fact that I wanted to preserve my own teeth.

Initially the Invisalign did cause slight tooth and headache, but with any brace there's pressure surrounding your teeth, this proves they're moving and that's a good sign! Each week I insert my new brace as my teeth are starting to take shape, it gets easier each time. I actually get excited when the week is up and I can see they are moving!