Linda Briggs Gastric Band Lap Band Stomach Stapling for Obesity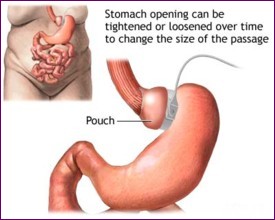 If you have tried all the diets that have been thought of and even resorted to tablets and medicines and still no success at maintaining a steady weight, one option to consider may be Gastric Banding.

Gastric Banding in combination with life style changes can make all the difference to successful long-term weight loss.


Thanks to the Lap band, and if the advice is followed by patients, it is possible to loose lose weight quickly and ... stay slim!!. The laparoscopic technique, offers the advantage of a short hospital stay.
This procedure can also be carried out endoscopically

Adjustable stomach ring (stomach staple) for the surgical treatment of obesity
is suitable for you if
You are an adult between 20 and 55 years old.

You are severely obese with a body mass index of 35 to 45
It is not suitable for people with
chronic eating disorders
suffering form hernias, oesophagus problems, gastric disorders, ulcers, Chron's disease
thyroid problems
heart problems
alcoholics, drug users
using anti-coagulant medicines (aspirin and anti vit K)
allergic to silicone

The advantages of lap or gastric band.
The insertion of a stomach ring by Coeliscopy only requires 3 to 4 days hospital stay thus offering reduced surgical trauma, reduced pain, as well as reduced post-operation stress.

Physical activity can be regained one week after the procedure.

The operation is fully reversible: The size of the ring can be readjusted from a distance with a simple skin incision.

One main advantage: the weight loss is progressive and long lasting. The patient can eat all sorts of food but in reduced quantities.

The first day after the op, liquids can be taken and very quickly solids, although in reduced quantities only. The aim is to arrive at a balanced diet, without medication, offering the patient a life free of guilt feelings towards food. Dietary advice is provided to the patients on leaving hospital.

This technique is the equivalent of a strict calorie controlled diet, perfectly tolerated by the patients; they don't eat because they are no longer hungry.

The coeliscopy (without deep incision) does not require a major surgical procedure and is therefore less painful than other techniques and reduces post-operative complications.


Possible Complications
As with all procedures, complications can arise, leading to surgical interventions with the eventual removal of the ring or its replacement.

The current improvements of the ring and of the operative techniques greatly reduces the risk of complications.

Some other complications have been written about and are listed below:-:
Slipping of the ring
Migration of the ring in the gastric system
Ulceration, infection of the ring or its surrounding area
Silicone rejection
Leaks within the intestinal areas